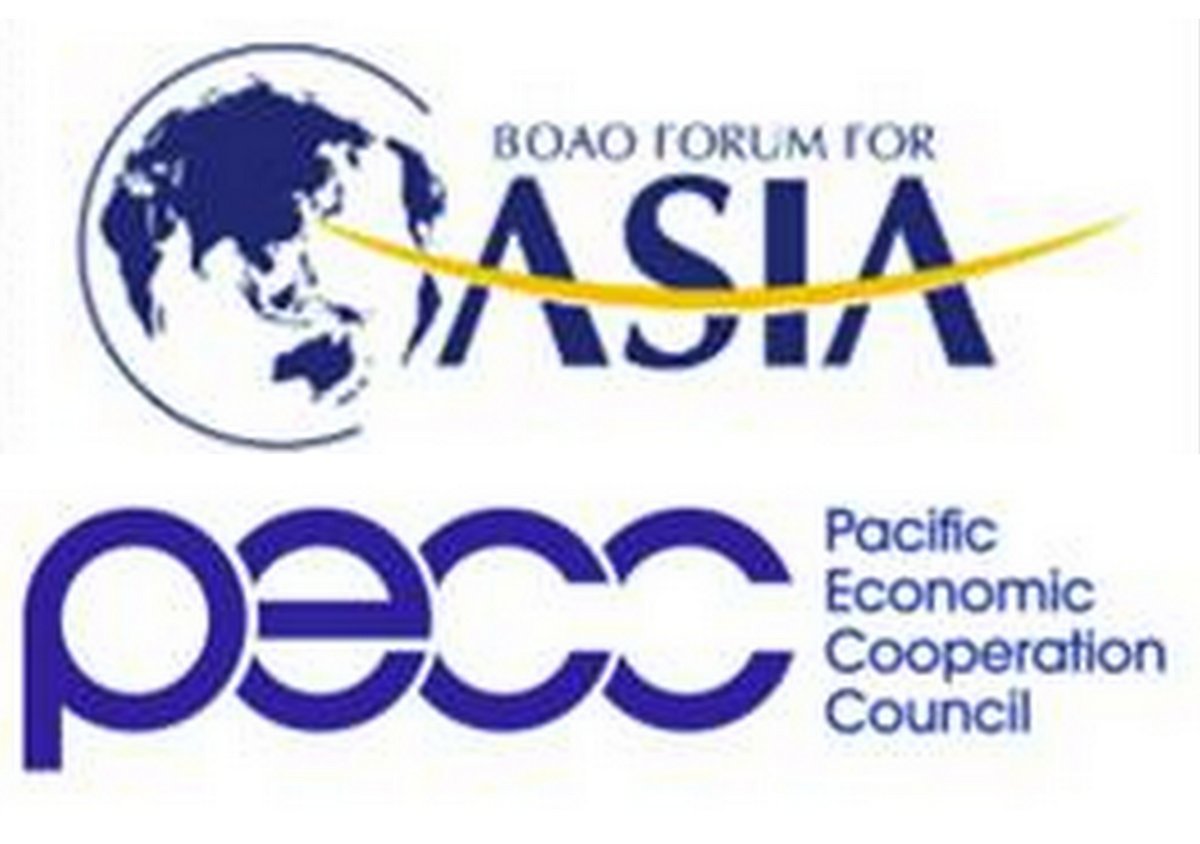 In 2013, Indonesia has made equitable growth a key priority looking at a Connectivity Framework to ensure that the benefits of regional economic integration are more equitably shared. On 3rd October 2013, during the APEC Leaders' Week, PECC and the Boao Forum for Asia co-organized a seminar on connectivity and inclusive growth in Bali, Indonesia.
Connectivity is a critical to ensuring inclusive growth. It will:
• make it faster, cheaper, and easier for people and goods to move across borders within the region;
• help reduce poverty by improving poor people's access to economic opportunities,
• lowering the cost of the goods and services that they consume, and providing better access to essential infrastructure services such as electricity;
• help narrow the development gap among Asian economies by providing small, poor, landlocked, and remote areas with better access to wider regional (and global) markets and production networks, thereby stimulating investment, trade, and economic growth in those areas
The objective of the seminar was to formulate a unifying framework that promotes better physical, institutional and people-to-people linkage in the Asia-Pacific region. While APEC's work over its past two decades has been on removing barriers, the next stage is to build connections among regional communities.
Session 1: Connecting the Region: Vision, Feasibility & Roadmap
The first session was divided into the 3 elements of the proposed Framework for Connectivity being devised this year: institutional connectivity; people to people connectivity; and physical connectivity.
Panel A: Institutional Connectivity
A key element of connectivity is the soft infrastructure to facilitate the movement of goods and services throughout the region. The work ahead includes trade facilitation, regulatory coherence and cooperation, streamlining customs procedures and promoting cross-border financial cooperation. As tariffs and at the border barriers have come down, the reduction of behind-the-border issues have become more important to promote connectivity.
APEC has undertaken a number of initiatives to promote institutional connectivity including two Trade Facilitation Action Plans, an Investment Facilitation Action Plan, a Supply-Chain Connectivity Framework Action Plan as well as numerous initiatives to promote regulatory coherence and cooperation under its work on Structural Reform.
Panel B: People to People Connectivity
The flows of people whether tourists, technical experts or business people are a critical element of building an Asia-Pacific community. This panel will discuss what the vision of Asia-Pacific community means in practical terms, the obstacles to its realization and recommend elements of a roadmap as well as its resource implications.
As revealed in numerous PECC and other surveys, the lack of skills is highlighted as a key concern for the business community. There are large gaps in perceptions between governments and the business community on the skills issue, thirty percent of business respondents cite lack of skills as a risk to growth compared to just 15 percent of those from government.
Panel C: Physical Connectivity
This panel will address what can be done to promote and facilitate physical connectivity in the Asia-Pacific region. The physical infrastructure needs are enormous, the OECD estimates that around US$120 billion is needed in airport infrastructure; US$40 billion for ports; US$270 for railway and US$155 billion for oil and gas transportation and distribution. Large disparities exist between regional economies in terms of key infrastructure metrics.
Session 2: "Connecting the Region: The Financing Challenge"
The Asian Development Bank estimates that Asia alone needs to invest US$8 trillion in infrastructure to avoid bottlenecks to growth. This session focused on both the financial aspects of promoting connectivity in the region.
Session 3: Release of State of the Region 2013-2014 report
___
Press release: Connectivity is the Key to Inclusive Growth
3 October 2013 (Bali, Indonesia) – Strengthening regional connectivity – physical, institutional and people-to-people links – will ensure sustainable, balanced and inclusive growth in Asia-Pacific economies which are still recovering from the global crisis, said business, government, academic and media leaders in a seminar jointly organized by the Pacific Economic Cooperation Council (PECC) and the Boao Forum for Asia. This is especially important at a time of uncertainty when economies are still recovering from the global crisis and must focus on the quality of growth and not just GDP figures, they stressed.
"People-to-people connectivity has to do with immigration, customs, security, transportation and tourism issues," Dr. Mari Pangestu, Indonesian Minister of Tourism and Creative Economy, told participants in one session. "It is about fast and secure travel through visa and travel facilitation, improving logistics and information-sharing, smart use of technology and cutting red tape while not compromising security. This is complex and needs coordination across borders."
Connectivity is a key theme for the Asia-Pacific Economic Cooperation (APEC) forum this year. At the APEC Economic Leaders' Meeting that is scheduled to start on 7 October, leaders are to adopt a Connectivity Framework to enhance integration across member economies. The one-day PECC-Boao Forum for Asia seminar brought experts and thought leaders together to discuss ways to deepen connectivity in the region and the opportunities that greater connectivity will create.
"We need to reduce poverty by providing better opportunities for people to benefit from globalization," PECC Co-Chair Mr. Jusuf Wanandi explained. "This means better education and the ability to access the global market." Mr. Zhou Wenzhong, Secretary General of the Boao Forum for Asia, agreed. "Many APEC economies are faced with the dilemma of growth and structural reform. But without painstaking reforms, growth will not be sustainable." He added: "Strengthening infrastructure in the region can spur growth, generate jobs, and lay the foundations needed for structural reforms. While financing is available, the platforms to share information about projects do not yet exist."
Since Indonesia last chaired APEC in 1994, the region has cut tariffs, eased cross-border business and doubled incomes. Yet the development gap within and among member economies has widened, according to PECC's State of the Region 2013-2014 report, which was released at the seminar. While over the past two decades APEC has focused on removing barriers, the next stage is to build and strengthen connectivity domestically and regionally to ensure higher-quality inclusive growth.
In his keynote speech at the seminar, Dr. Taleb Rifai, Secretary General of the World Tourism Organization, acknowledged the substantial growth of the middle class in the Asia-Pacific, but underscored the importance of increasing investment in education, skills training, transport and the mobility of people. "Air transport market liberalization is a critical issue," he asserted. "We need to have people freely moving around the world." Asked what one measure should be the top priority for boosting connectivity in the region, Dr. Rifai replied: "Eliminate visas."
While many barriers have come down, there are significant problems that prevent businesses, especially small and medium-size enterprises (SMEs), from benefitting from regional integration, seminar participants concluded. APEC must focus on trade facilitation, regulatory coherence and cooperation, streamlining customs procedures and promoting financial cooperation. The cost of trading across borders is estimated at US$2 trillion. A global trade facilitation agreement would streamline customs and border procedures, leading to benefits of around US$1 trillion.
"We welcome the participation in our efforts of non-APEC ASEAN members, as well as experts from India and Bangladesh," said Ambassador Don Campbell, Co-Chair of PECC. "True to the meaning of open regionalism, we need to make sure that, as we improve connectivity, no one is left out. It is definitely the right direction to take to ensure that all economies benefit from deeper integration."