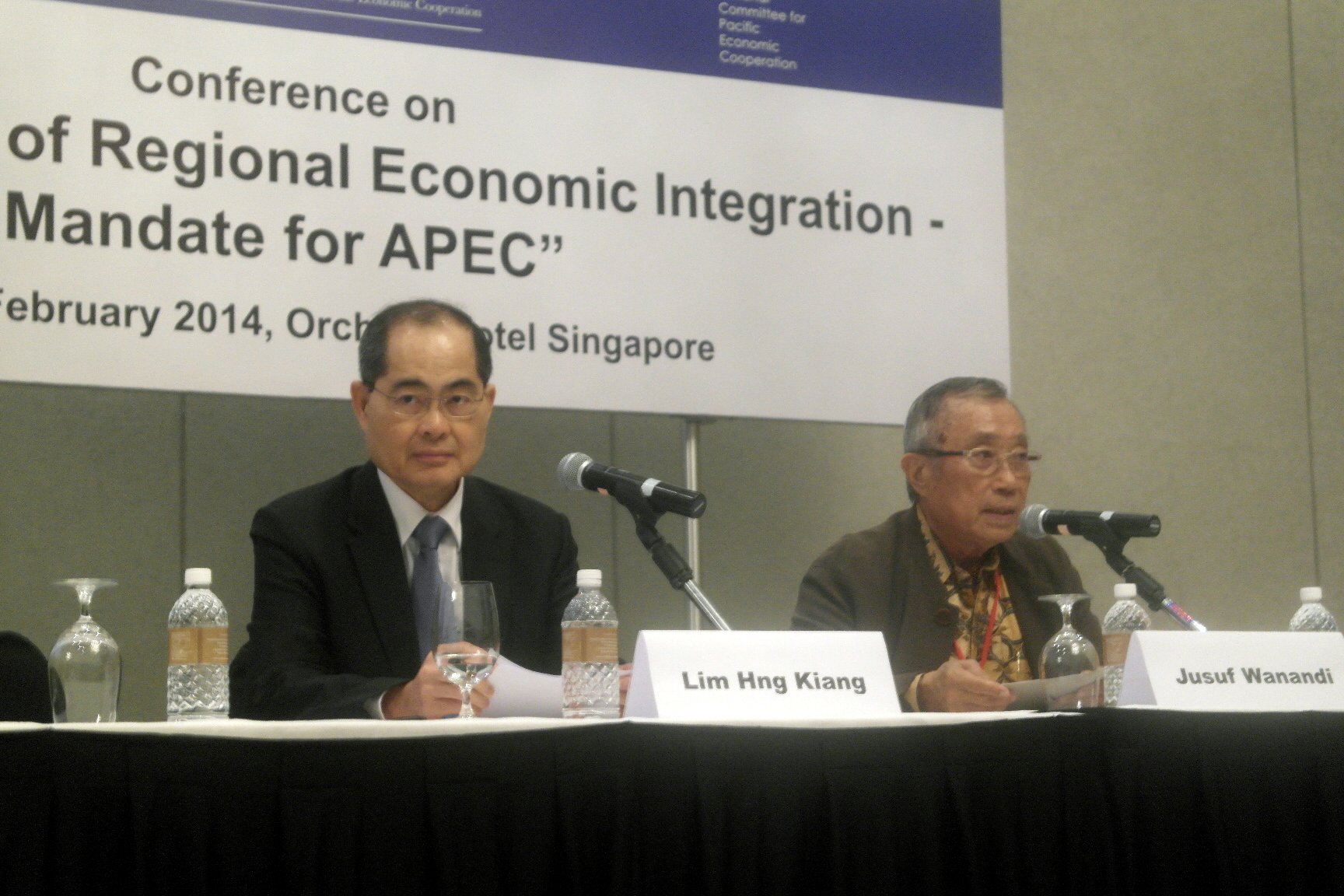 The regional and global economies are undergoing a structural transformation, partially a response to the upheaval caused by the Global Financial Crisis but also due to rapidly evolving changes in regional economies. Policy-makers are experimenting with various instruments to manage these changes.
The 2014 PECC Singapore conference was co-organized by the Singapore National Committee for Pacific Economic Cooperation (SINCPEC) and the China National Committee for Pacific Economic Cooperation (CNCPEC) to provide a venue for stakeholders from different parts of the region to share their views and expertise on various ways in which APEC can play a role in managing the changes. The Conference consisted of four sessions with opening remarks delivered by Lim Hng Kiang, Minister for Trade and Industry of Singapore. For more information, please contact: This email address is being protected from spambots. You need JavaScript enabled to view it..
Program agenda (pdf, 240KB)
Press release (pdf, 24KB)
PROGRAM AGENDA
Feb. 10, 2014
Welcome Remarks

Opening Speech by Lim Hng Kiang, Minister for Trade and Industry, Singapore
Keynote Speech by La Yifan, Vice Chair, APEC SOM & Under Secretary General, National Organizing Committee for APEC 2014, Ministry of Foreign Affairs, China
Session 1: Strategic Assessment and Outlook of Asia-Pacific Economy
Keynote Speech by Bert Hofman, Chief Economist for the East Asia and the Pacific Region, The World Bank

Panel Discussion
The Asia-Pacific economies are undergoing structural reforms for the purpose of achieving sustainable development and improving people's living standards. Based on the stocktaking of the experience in the past and an outlook of the direction of regional economic development for the next 5-10 years, we need to study:
1) The different patterns of economic restructuring and the approaches of implementation;
2) How APEC can enhance economic policy coordination towards achieving the Bogor Goals, bearing in mind APEC's interim milestones and commitments for implementation;
3) How to ensure that all economies gain from participating in structural economic adjustment and the global value chain.
Session 2: Regional Economic Integration and Multilateral Trading System
The number of regional and bilateral trade agreements in the Asia-Pacific region has increased with the WTO DDA facing challenges. With the WTO as the core of multilateral trading system, the regional trading arrangements should reinforce, instead of excluding each other.
1) What should be our roadmap and framework of Asia-Pacific regional economic integration, taking various FTA proposals into consideration?
2) How can APEC promote the synergy of various regional economic integration mechanisms existing in all APEC economies on both sides of the Pacific?
3) How can APEC economies contribute to ensure that the WTO process remains current and relevant?
Session 3: Physical Connectivity
Keynote Speech by Mari Pangestu, Minister for Tourism and Creative Economy, Indonesia

Panel Discussion
Of the three aspects of connectivity, physical connectivity is of fundamental significance to the promotion of regional integration.
1) What are the possible options for a roadmap of Asia-Pacific physical connectivity? How can we make best use of Indonesia's Connectivity Framework?
2) What are the priorities for physical connectivity currently?
3) How can the developed and developing economies both contribute to regional connectivity?
4) How can APEC economies enhance connectivity across borders of vast distances, for example by improving our air, maritime and cyber connectivity?
5) How can we develop the proposed Asia Infrastructure Investment Bank as an inclusive, cost-effective and sustainable solution to the financing bottleneck?
Feb. 11, 2014
Opening Speech by Bambang Brodjonegoro, Vice Minister for Finance, Indonesia
Session 4: Financial Cooperation in the Asia-Pacific
Keynote Speech by Xiang Songzuo, Chief Economist, Agricultural Bank of China

Panel Discussion
Financial cooperation remains a weak link in regional economic cooperation. In the regional efforts to make structural adjustment for economic growth, an important role should be given to financial cooperation.
1) What is the current status of financial cooperation in the Asia-Pacific?
2) What measures should be taken by member economies to enhance the financial cooperation (monetary policy coordination, capital market, financial regulations, connectivity and currency swap)?
Concluding Session: Next Steps
Summary of discussions from the previous sessions to propose recommendations for APEC and other officials.
Concluding Remarks by Tang Guoqiang, Chair, China National Committee for Pacific Economic Cooperation (CNCPEC)