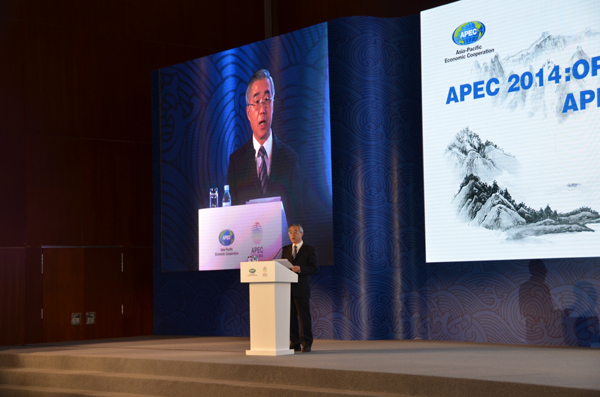 On Dec. 9, 2013, the APEC 2014 Symposium was held at the China National Convention Center in Beijing. The Symposium was themed "APEC 2014: Opportunities and Priorities" and was organized by the China National Committee for Pacific Economic Cooperation (CNCPEC). Over 200 participants, including academic experts, APEC Senior Officials, and representatives from the business community and government departments attended the Symposium chaired by Ambassador Tang Guoqiang, Chair of the the CNCPEC, and exchanged views and thoughts on the objectives and priorities of cooperation for APEC 2014.
Mr. Zhang Jun, Director General of the Department of the International Economic Affairs, Chinese Foreign Ministry, addressed the opening session, during which he shared perspectives on the new environment, opportunities, and challenges for the Asia-Pacific regional cooperation. Zhang stressed that APEC should continue to focus on developing a long-term vision and framework for the Asia-Pacific economic cooperation, tap deep into the growth potential of the region, establish new areas of growth, and facilitate concrete results in practical cooperation.
The APEC 2014 Symposium was held as a supporting event of the APEC Informal Senior Officials' Meeting (December 10, 2013) with the objective of providing intellectual support and policy recommendations for China's chairmanship of APEC in 2014.
[Photo: Amb. Tang Guoqiang, Chair of CNCPEC. Courtesy of the Ministry of Foreign Affairs of China]