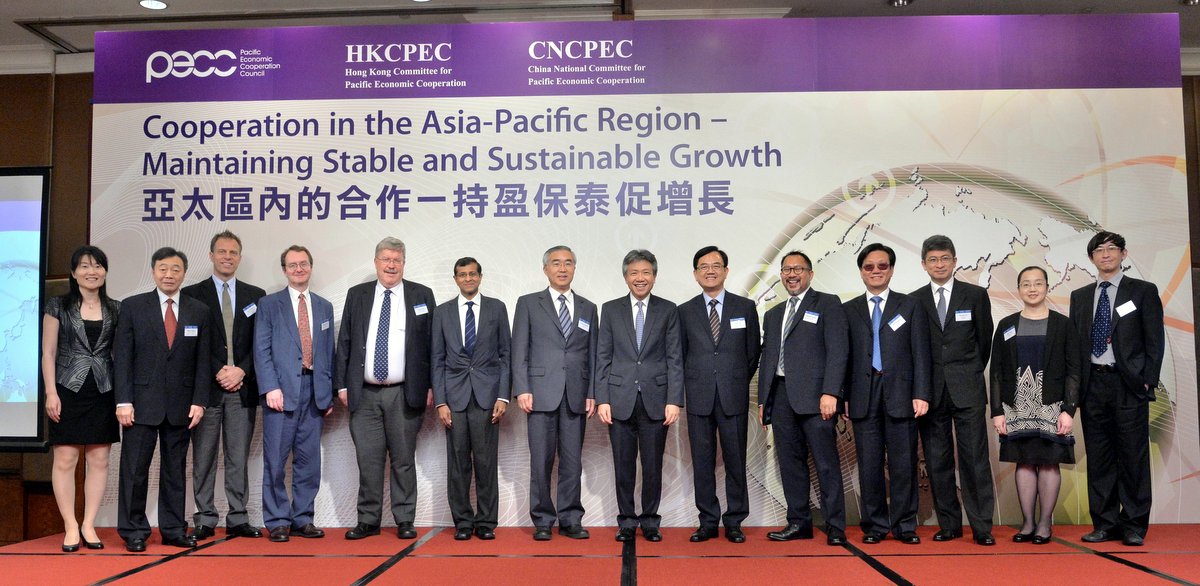 The Hong Kong Committee for Pacific Economic Cooperation (HKCPEC) and the China National Committee for Pacific Economic Cooperation (CNCPEC) jointly held a seminar titled "Cooperation in the Asia-Pacific Region – Maintaining Stable and Sustainable Growth" on 30 June 2014 in Hong Kong.
The current global economic climate is characterized by modest economic growth with remaining downside risks. Our common challenge is to explore viable means for maintaining stable and sustainable growth. The Joint HKCPEC-CNCPEC seminar provided a platform for more than 180 representatives from the academic, business and government sectors to examine how to promote and inject new impetus for growth through co-operation in the Asia-Pacific.
[Group photo: HKCPEC Chair, Professor Stephen Cheung (eighth from left); CNCPEC Chair, Ambassador Tang Guoqiang (seventh from left); HKCPEC Vice Chair, Mr. Raistlin Lau (third from right); and CNCPEC Vice Chair, Ambassador Wu Zhenglong (fourth from right) took a group photo with other guests.]
The Seminar consisted of four sessions:
During the first session on "Hong Kong's Contribution to the Growth of Regional Trade", speakers discussed and shared their views on the importance of the free flow of trade and investment as exemplified in Hong Kong in contributing to regional trade and propelling global economic growth. In particular, Hong Kong's unique strengths in adapting to change, its open and free trade regime and role as gateway to China were highlighted as the major contributing factors to the prosperity of regional trade through Hong Kong.
In the second session on "Managing Supply Chain Disruptions", several major potential sources of disruption (e.g. changes in supply and demand, political risks etc.) were mentioned. Speakers shared their insights on possible solutions to address minimizing such disruptions and addressing "bottlenecks" through closer co-operation and FTA among economies in the region.
The topic of the third session was "Outlook for SMEs in a Changing Economic Climate." Speakers shared their views on the opportunities and threats brought by mobile technology and on-line trading platforms to SMEs, the attractiveness of Hong Kong to SMEs and the latest development of SMEs in China.
During the last session on the "Role of Technology in Shaping Trade and Business in the Asia-Pacific," speakers analyzed the latest trend and challenges in technological innovation and trade in the region, and the implications and role of APEC, the role that governments can play in promoting the development of innovation and technology in the region.
Further information of the seminar is available at HKCPEC's website (http://www.hkcpec.org/events/event_2014-jun.html).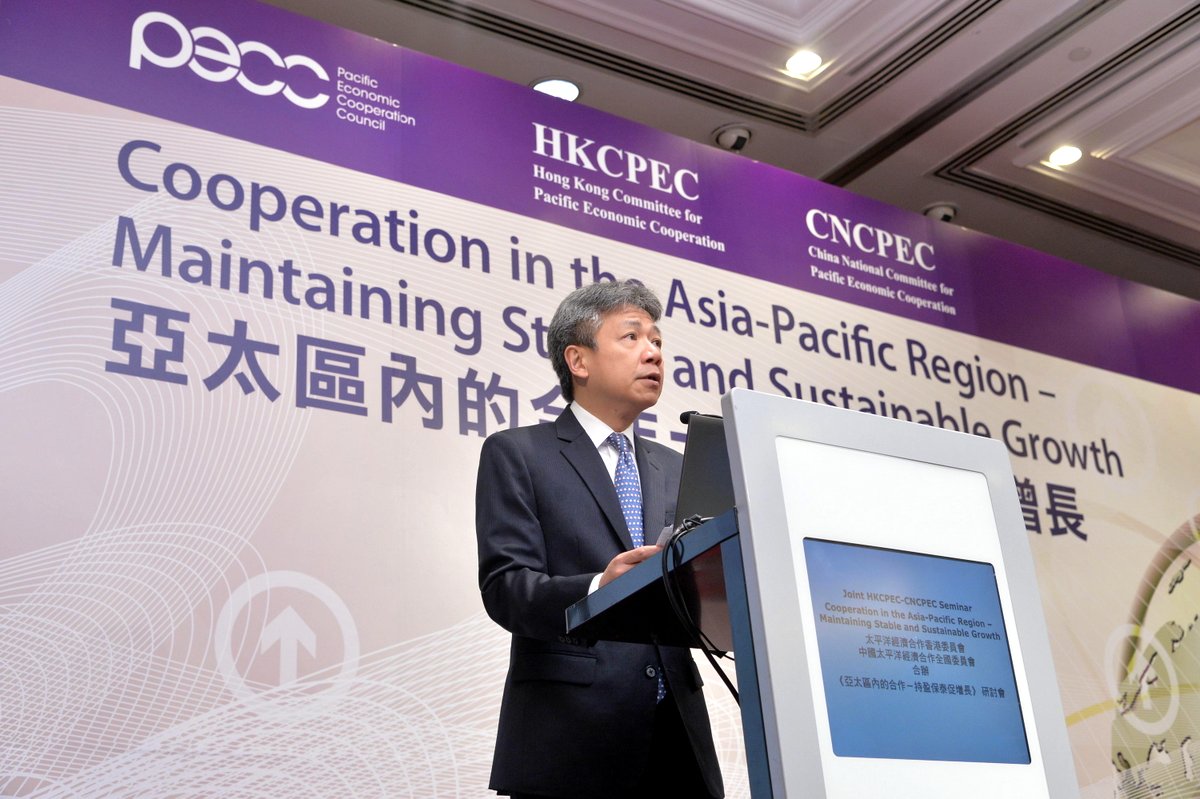 [Photo 1: HKCPEC Chair, Professor Stephen Cheung, delivers welcome remarks]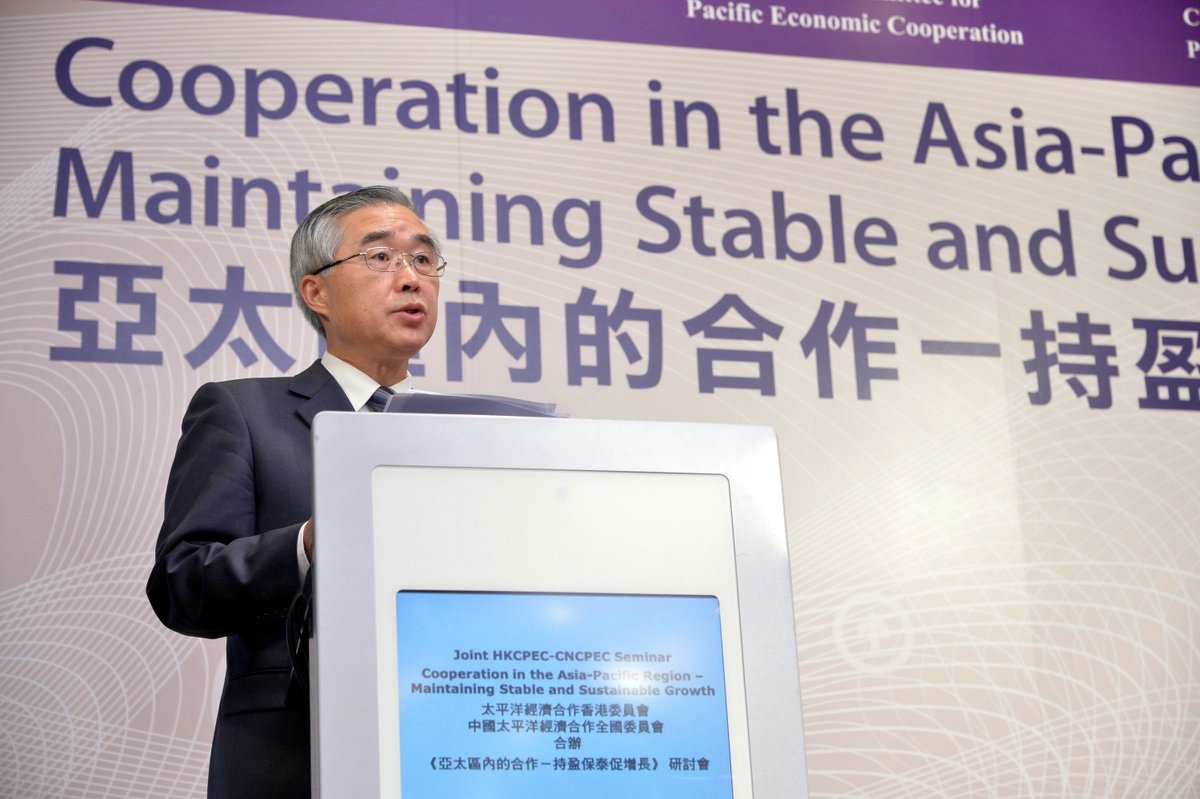 [Photo 2: CNCPEC Chair, Ambassador Tang Guoqiang delivers opening remarks]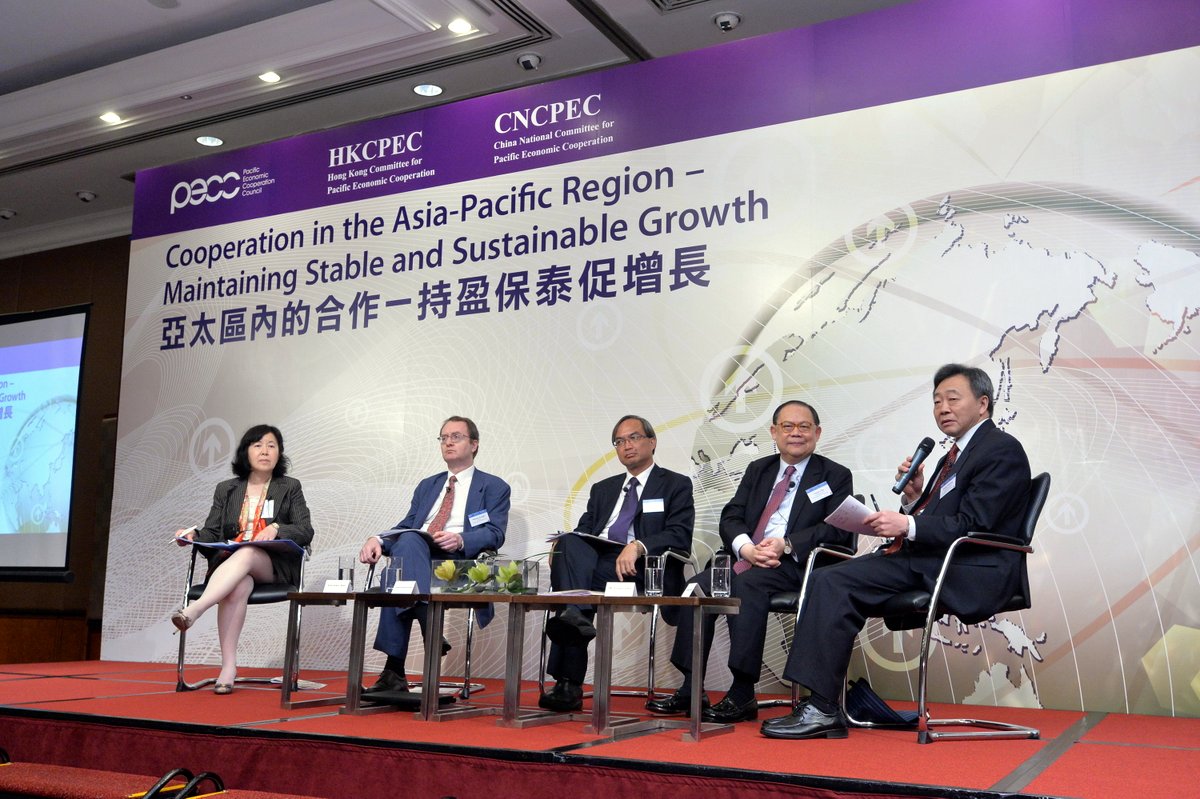 [Photo 3: From left: Principal Economist, Economic Analysis and Business Facilitation Unit, Financial Secretary's Office, Ms. Elley Mao; Director, Enright, Scott & Associates Ltd, and Sun Hung Kai Properties Professor, Faculty of Business and Economics, University of Hong Kong, Professor Michael Enright; Director of Research, Hong Kong Trade Development Council, and HKCPEC Member, Mr. Nicholas Kwan; Chairman and CEO, First Eastern Investment Group, Mr. Victor Chu; and Jean Monnet Professor, School of Economics, and Director, Center for the World Economy Studies, Renmin University of China, Dr. Huang Weiping, during Session 1 panel discussion.]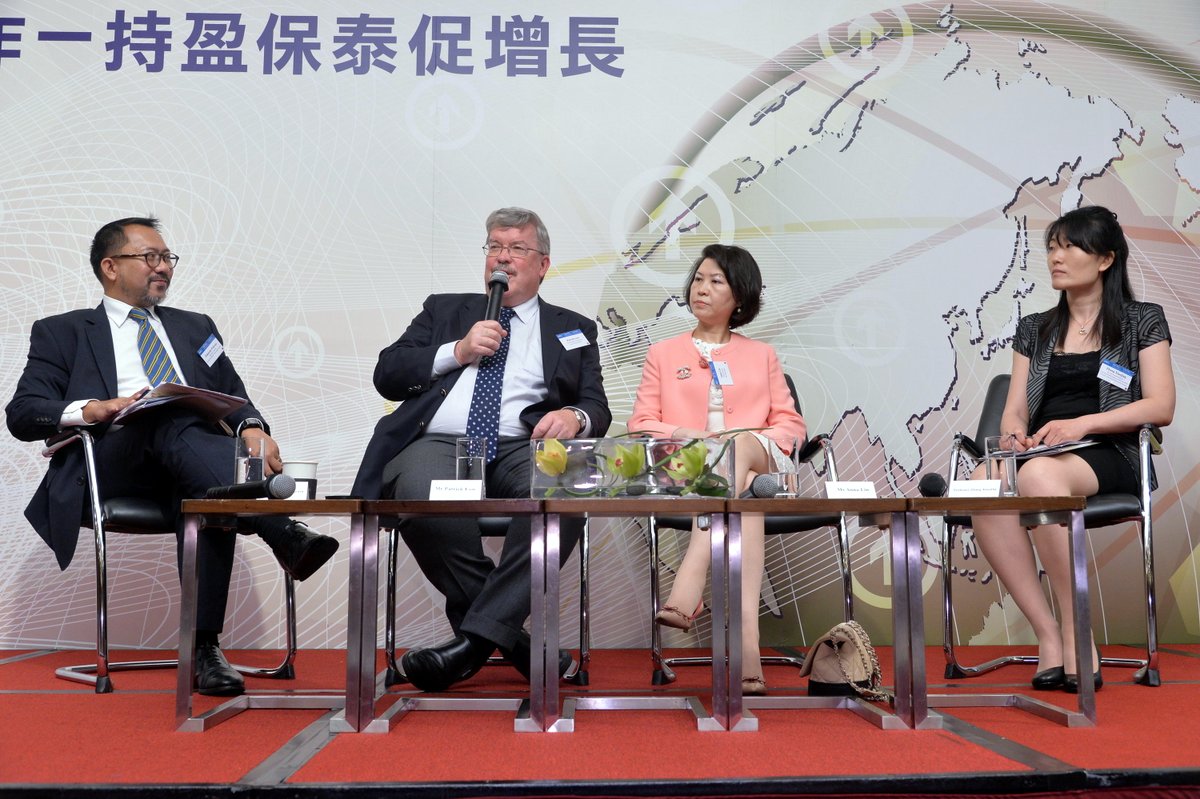 [Photo 4: From left: Secretary General, PECC, Mr. Eduardo Pedrosa; Vice President of Research, Fung Global Institute, Mr. Patrick Low; Chief Executive, GS1 Hong Kong, and Vice-Chair, Sub-committee on Infrastructural Support, Hong Kong Logistics Development Council, Ms. Anna Lin; and Dean and Associate Researcher, Economic Research Institute for China and ASEAN, University of International Business and Economics, Professor Zhang Xiaojing, during Session 2 panel discussion.]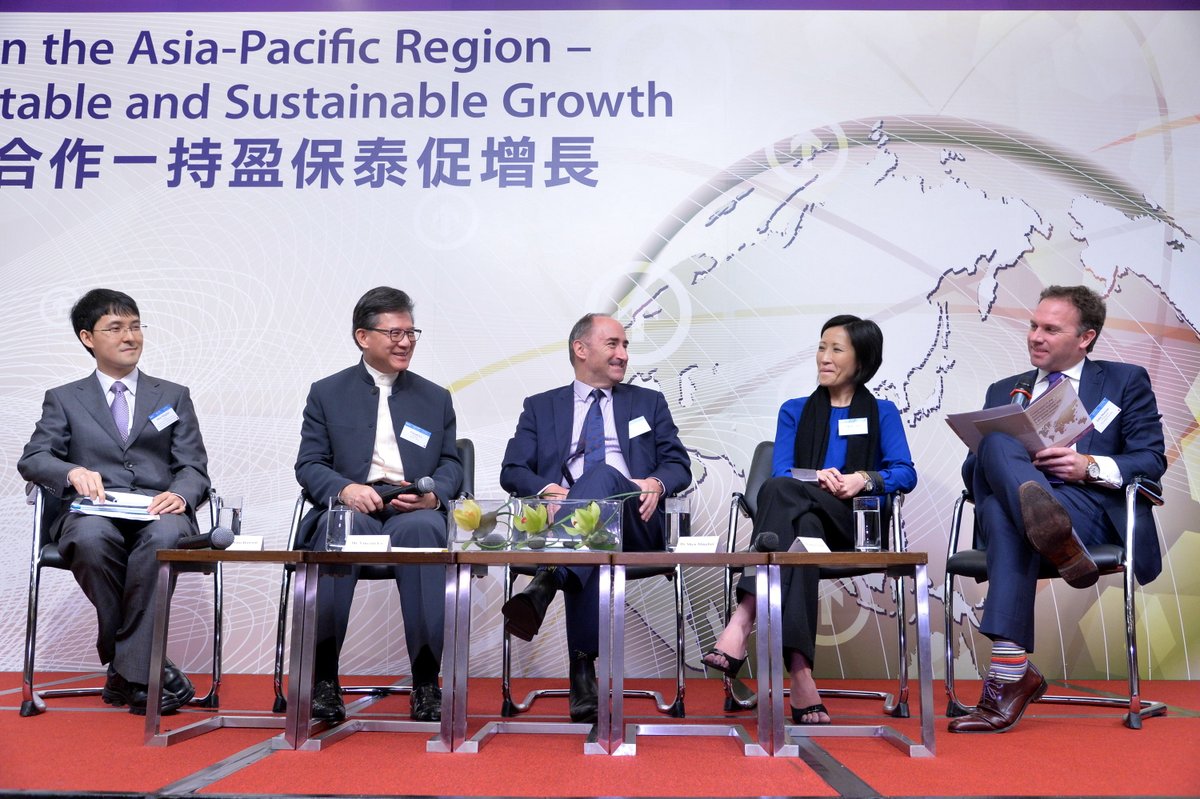 [Photo 5: From left: Director, Department of Emerging Economies, National Institute of International Strategies, Chinese Academy of Social Sciences (CASS), and Deputy Director, Center for APEC and East Asian Cooperation, CASS, Dr. Shen Minghui; Chairman, Shui On Group, and Hong Kong, China's representative to the Asia-Pacific Economic Cooperation (APEC) Business Advisory Council, Mr. Vincent Lo; Director-General of Investment Promotion, Invest Hong Kong, Mr. Simon Galpin; Executive Director, German Pool Group Company Limited, and HKCPEC Member, Ms. Karen Chan; and TV Presenter, Bloomberg Television, Mr. John Dawson, share their views at Session 3 panel discussion.]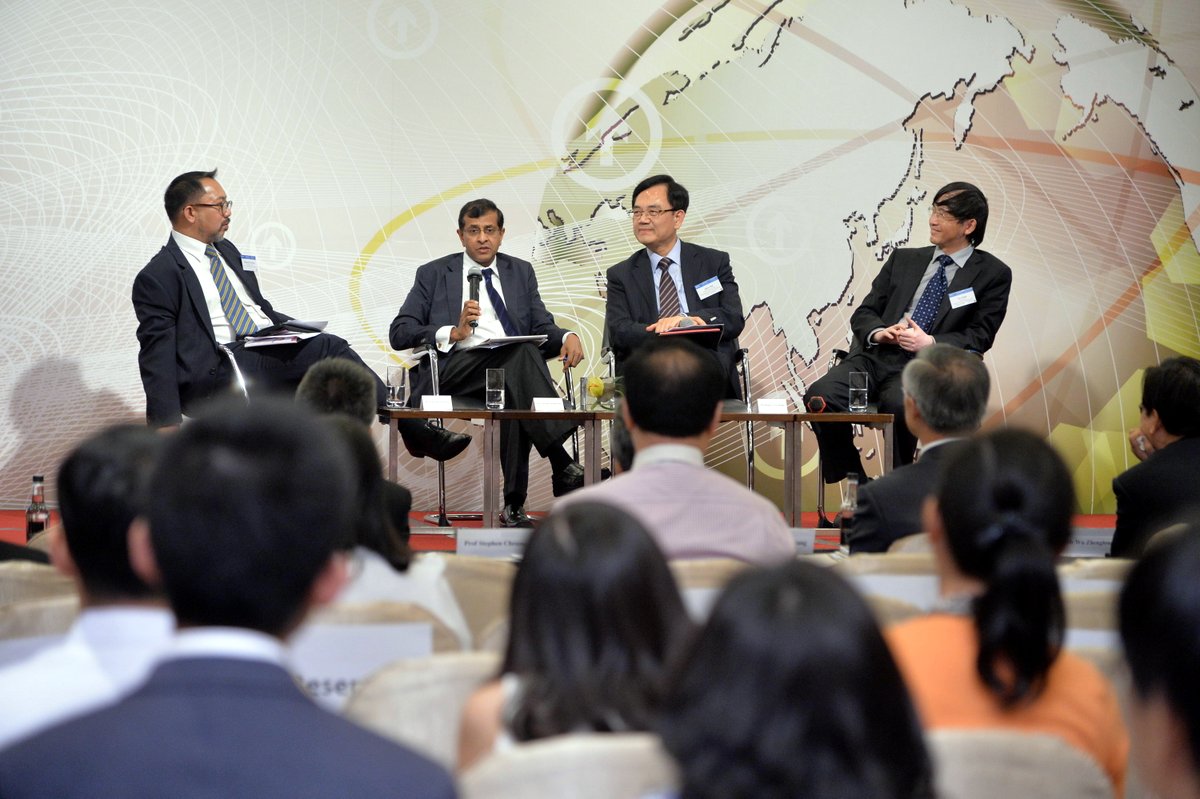 [Photo 6: From left: Mr. Pedrosa; Director of Research, Asian Development Bank Institute, Mr. Ganeshan Wignaraja; Chief Executive Officer, Hong Kong Science and Technology Parks Corporation, Mr. Allen Ma; and Researcher, Institute of Policy and Management, Chinese Academy of Sciences, Professor Yu Jiang, share their views at Session 4 panel discussion.]