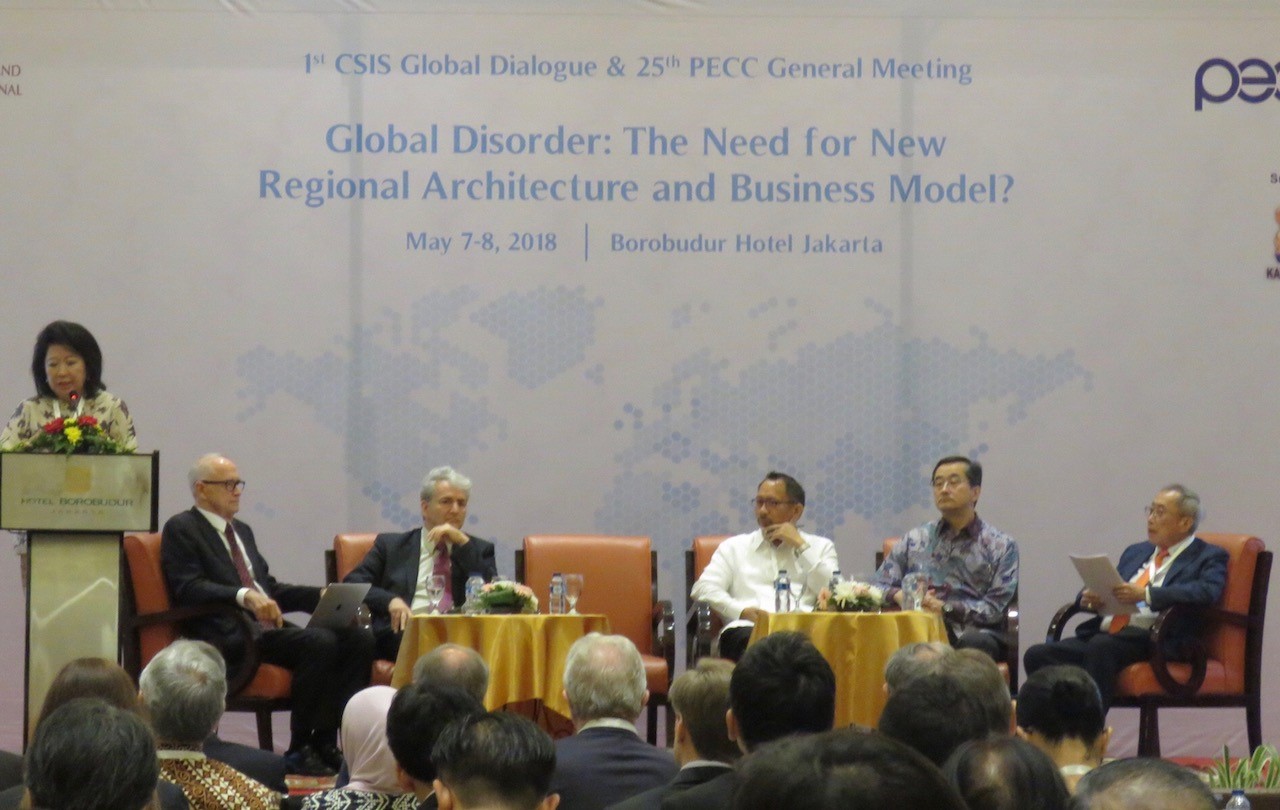 The Pacific Economic Cooperation Council (PECC) held its 25th General Meeting in conjunction with the inaugural Global Dialogue organized by the Centre for Strategic and International Studies (CSIS). H.E. Retno Marsudi, Minister of Foreign Affairs, H. E. Sri Mulyani Indrawati Minister of Finance, and H.E. Airlangga Hartarto, Minister of Industry from the Republic of Indonesia as well as Dato' Paduka Lim Jock Hoi, ASEAN Secretary General and APEC's Executive Director Dr Alan Bollard provided high level insights into regional developments.
The meeting took place against the backdrop of rising concerns over global and regional governance given rising protectionist rhetoric and actions as well as the challenge for international policy coordination and coherence posed by climate change and rapid technological change.
The discussions were organized into 4 plenary sessions:
Plenary Session 1: The Need for a New Global Order?
Plenary Session 2: New Business Models
Plenary Session 3: The Mega-Regional Trade and Development Initiatives
Plenary Session 4: Regional Institutions and Architecture
In addition to the plenary discussions stakeholders discussed challenges to regional development during in-depth concurrent sessions on:
Environmental Issues and Climate Change
Policy Coordination in the Digital Economic Era
Towards More Inclusive Economic Development
The Future of Work
Regional economies need to take a fresh look at cooperation and integration to ensure that peoples incomes and livelihoods improve in the face of rapid technological change and climate change. According to experts gathered in Jakarta, the global economic system is currently under challenge. But these issues cannot be addressed without effective international cooperation. "The center of the world economy is now in the Asia-Pacific, but we need to take a bigger role to find solutions these complex issues that promote the creation of jobs and value across all our societies," said Mari Elka Pangestu, the Co-chair for Indonesian National Committee for PECC.
"Meanwhile, we are also witnessing a shift in political-economy arrangement and high level of uncertainty in the global system at exactly the time when these processes need to be more effective to deal with the growing connections among our business and people. There are currently two main regional strategy issues: First is the changes in the global economic structure, where we see political issues and motives affecting the economic policies including a potential trade conflict between the world's two biggest economies that would affect everybody else – especially the Asia-Pacific." said Jusuf Wanandi, Vice Chairman of Board of Trustees, CSIS Foundation.
See https://pecc.org/event-calendar/past-events/event/548-pecc-xxv-25th-pecc-general-meeting