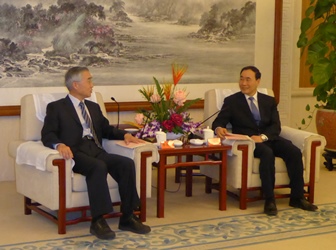 Under the joint sponsorship of Ministry of Commerce of China, Tianjin Municipal Government, and China National Committee for Pacific Economic Cooperation (CNCPEC), 12th PECC International Trade and Investment Fair & 6th Forum on Chinese Enterprises Going Global Strategy was held in Tianjin, China, from 14th to 15th April 2016.
[Photo: Tianjin Vice Mayor Mr. Zhao Haishan meets with Amb. Tang Guoqiang]
Amb. Tang Guoqiang, Co-Chair of PECC and Chair of CNCPEC, and Mr. Zhao Haishan, Vice Mayor of Tianjin City, attended the opening event and made keynote addresses. In his address, Amb. Tang Guoqiang mentioned the efforts and contributions made by PECC and CNCPEC over the years to promote macroeconomic studies, policy coordination and people-to-people exchanges within the Asia-Pacific region, and reaffirmed the commitment of PECC and CNCPEC to working together with related parties to explore new paths for regional sustainable development and Asia-Pacific economic integration.
Mr. Zhao Haishan briefed the participants on the geographic advantage that Tianjin has served as a converging point to promote China's Belt and Road Initiative and regional connectivity. He also put forward the measures Tianjin has taken to deepen reform and opening-up, such as the strategy of integrating Beijing, Tianjin and Hebei, facilitation of trade and investment, industrial upgrading and financial innovation, etc. The Vice Mayor welcomed enterprises, both at home and abroad, to take an active part in the economic development and international cooperation in Tianjin.
Representatives from Asian and European countries also made presentations at the Forum. This Forum attracted around 200 participants from government, business, academia, media and the general public.