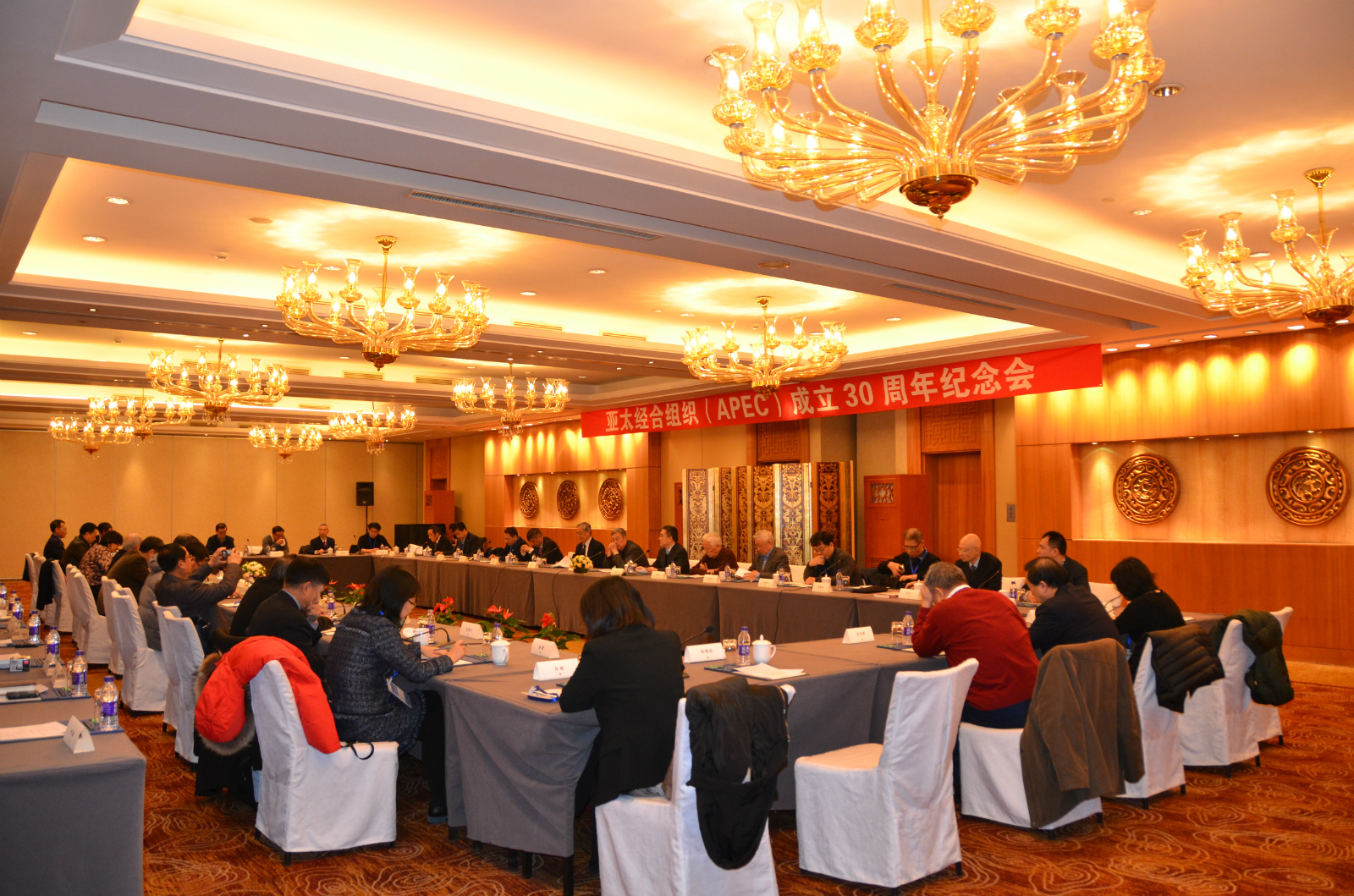 On December 27, 2019, China National Committee for Pacific Economic Cooperation (CNCPEC) held a commemorative meeting on the 30th anniversary of the establishment of APEC in Beijing. More than 60 distinguished guests attended the meeting, including Mr. Huang Mengfu, Honorary Chair of CNCPEC, the 10th and 11th Vice President of the Chinese People's Political Consultative Conference, Mr. Wang Xiaolong, General Director of the Department of International Economy of Chinese Foreign Affairs Ministry, Ambassador Wang Yusheng, former Chinese APEC Senior Official, Ambassador Yang Chengxu, former Chair of CNCPEC and Ambassador Su Ge, Chair of CNCPEC and Co-Chair of PECC.
In his speech, Honorary Chair Huang Mengfu said since the establishment of APEC, regional cooperation has always been the mainstream in the Asia Pacific. After 30 years of evolution and transition of the international situation, protectionism and unilateralism are on the rise at present. The driving force of economic development and the weight of productivity factors have also changed, which means science and technology, innovation and high-tech talents play an increasingly important role. China's Belt and Road Initiative and the initiative to build a community of shared future for mankind are in keeping with the trend of the times and are beneficial to the development of the humankind. APEC has been a good source of positive energy in the past a few decades in the region. Nowadays it is even more necessary for international organizations such as APEC and PECC to play a greater role in steering regional and global development on the right track.
General Director Wang Xiaolong said that during its hard work this year, CNCPEC has fully promoted this platform to serve in "policy research think tank, foreign academic exchanges, coordination and services for local economic diplomacy". CNCPEC has made important contributions to formulating the framework of APEC future vision through its deep involvement, and to cooperate with other member economies in a joint effort to make positive inputs in support of the Asia-Pacific cooperation.
In his welcoming speech, Ambassador Su Ge said that APEC has vigorously promoted regional economic cooperation over the past 30 years. It should connect the past with the future by carefully planning the Post 2020 agenda on the basis of the "Bogor Goals". He confirmed that China has played an active role on the Asia-Pacific regional economic cooperation process, which has made contribution to the sound functioning of APEC. He believed that China will continue to promote economic integration in this region and contribute to a new generation of rule-based, transparent, non-discriminatory, open, free and inclusive international trading system, so as to contribute to the building of an Asia-Pacific community of shared future.
Participants at the meeting held a heated discussion on the work of APEC in the past 30 years, the APEC post 2020 agenda, the current trends of globalization and the new progress in regional cooperation, and China's participation in Asia-Pacific regional cooperation.