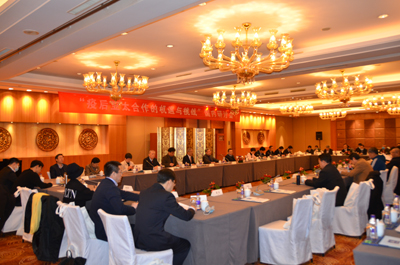 On 22 December 2020, the China National Committee for Pacific Economic Cooperation (CNCPEC) held a symposium on "Challenges and Opportunities of Asia-Pacific Cooperation in Post-pandemic Era" in Beijing. More than 80 distinguished guests attended the symposium, including H.E. Mr. Huang Mengfu, Honorary Chair of CNCPEC, the 10th and 11th Vice President of the Chinese People's Political Consultative Conference, Mr. Wang Xiaolong, General Director of the Department of International Economy of Chinese Foreign Affairs Ministry and Amb. Su Ge, Chair of CNCPEC and Co-Chair of PECC. The symposium was chaired by Amb. Ma Keqing, Executive Vice Chair of CNCPEC, and Amb. Zhao Yali, Vice Chair of CNCPEC, delivered a concluding remark.

In his speech, Honorary Chair Huang Mengfu said that the COVID-19 crisis is still raging around the world, not only causing serious loss of life and property to people all over the world, but also having a major impact on the world economy, security and global development. Affected by the multiple effects of anti-globalization, unilateralism, protectionism, and the pandemic, the Asia-Pacific region has experienced overall negative economic growth for the first time in decades. We must continue to promote the construction of a Community with a Shared Future for Mankind, advance the construction of the "Belt and Road" Initiative. He encouraged the CNCPEC to actively provide suggestions for Asia-Pacific cooperation.

General Director Wang Xiaolong commended the work of CNCPEC, saying that the CNCPEC is an important platform for China to participate in Asia-Pacific cooperation. Since the beginning of 2020, the CNCPEC has actively overcome the difficulties of the pandemic and successfully organized a series of activities and made positive contributions to the important outcomes of the APEC meetings. The prospects for Asia-Pacific cooperation are bright. He believed that the CNCPEC would have new and greater achievements in 2021.

In his speech, Amb. Su Ge said that the COVID-19 crisis has a huge impact on global and regional politics, economy, society, and daily life. It is necessary to conduct in-depth and objective analysis of the new normal, understand the characteristics of the Asia-Pacific economic recovery after the pandemic, and grasp the right direction for the future of APEC economic cooperation. Under the framework of PECC, the CNCPEC has overcome the obstacles brought by the pandemic, actively participated in various APEC activities, carried out work in a solid and stable manner, cooperated with China's multilateral diplomacy in the Asia-Pacific region, and promoted Asia-Pacific economic cooperation.

Participants at the symposium held a heated discussion on globalization, regionalization and global governance after the pandemic, Asia-Pacific economic development and integration process, impact of COVID-19 on APEC Putrajaya Vision 2040, progress and prospects of CPTPP and RCEP.