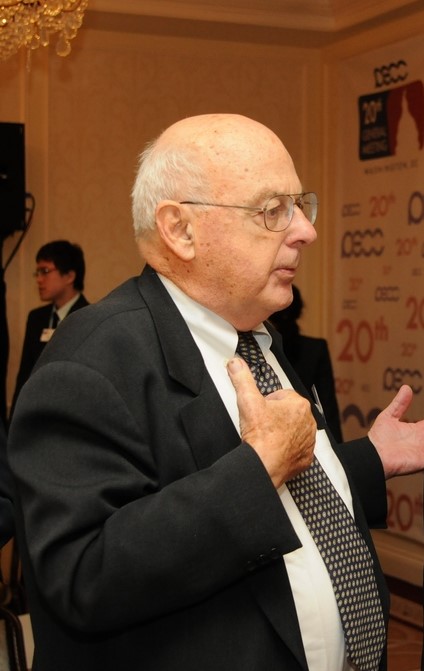 PECC mourns the death of Senator Adlai Stevenson III, who passed away on 6 September 2021 at the age of 90. He was a past president of the U.S. Committee of the Pacific Economic Cooperation Council. He served in the US Senate from 1970 to 1981 representing the state of Illinois.
Adlai E. Stevenson III, served in numerous business and public policy related capacities, including Chairman of SC&M Investment Management Company, founder and a Director of Hua Mei Capital Company (the first Sino US financial intermediary and Chairman of Midwest US China Association. He was the author of the Black Book which records American politics and history as his family knew it over five generations of active engagement starting with Lincoln in central Illinois. In May 2016, the Black Book was published by the China Academy of Social Sciences Press in China and renamed: American History and the Story of the Black Book. (http://www.adlai3.com)
"Former Senator Adlai Stevenson was a visionary and dedicated long-time member of the American PECC committee and once served as its chair. Having first gone to Asia as a Marine during the Korean War, he developed a strong belief in the global importance of U.S.-Asia-Pacific ties, particularly in the business and economic spheres. His focus in PECC was on building the cooperative and compatible institutional and regulatory frameworks he believed were essential to realize the potentials of intra-Asian and U.S.-Asian synergy. After his Senate years, Mr. Stevenson also worked closely with non-profit and business institutions in his home city of Chicago and around the world to promote U.S. relations with China, Japan, and Korea. I had the pleasure of working with him in both the U.S. Senate and in PECC, and admired his unassuming completely open manner combined with the enthusiasm and intellectual frameworks he brought to all his activities." Said Dr Charles Morrison, former President of the East West Center and former co-chair of PECC.
Senator Stevenson along with Yuchiro Nagatomi, former President, Institute of Fiscal and Monetary Policy, of the Ministry of Finance of Japan were the founding co-chairs of PECC's Financial Market Development project.
Former US PECC Executive Director Dr Mark Borthwick recalls "Few political leaders in the United States spoke with as much understanding of international financial issues as Senator Stevenson or with as much prescience. He proposed a wide-ranging agenda in PECC to address the myriad problems in regional financial markets through closer regulatory integration. He is remembered especially for his courtly demeanor and the tact and diplomacy with which he helped lead the FMD Task Force."