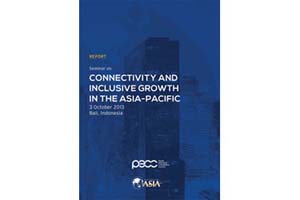 During the APEC meetings in Bali, the Pacific Economic Cooperation Council (PECC) and the Boao Forum for Asia convened a half-day seminar to consider "Connectivity and Inclusive Growth in the Asia-Pacific" and to identify policy actions and projects that could be adopted in 2014, when the People's Republic of China holds the APEC chair.
In four interactive sessions and a closing dinner, business, government, academic and civil society leaders discussed and debated ways to increase institutional, physical and people-to-people connectivity in the Asia-Pacific. One panel was devoted to the challenge of financing infrastructure development, a critical bottleneck to growth in the region. This was an especially important discussion in light of Chinese President Xi Jinping's announcement that China would support the establishment of an Asian infrastructure development bank, a proposal that attracted much attention in advance of the APEC meetings.
This report outlines the outcomes of the seminar discussions, including key points of action that could be included in a broad plan of action to strengthen regional connectivity during China's APEC chairmanship. Such a roadmap would be a major contribution to driving inclusive growth in the Asia-Pacific in coming years.