The year 2010 can justly be viewed as a watershed year for trade policy in the Asia-Pacific region. The global financial crisis and its aftermath have changed the environment for trade policy. It is also the year when industrialized APEC economies will be assessed on their progress on the Bogor Goals.
As last year's PECC task force on sustainable responses to the crisis made clear, the export-led model of East Asian growth faces inevitable adjustment in the light of diminished capacity of the US consumer market to absorb East Asian exports.
Other trade policy issues the region is grappling with includes:
Challenges to trade policy arising from policy responses to climate change and from emerging trends in international food markets are coming sharply into focus.
On the regional integration front, important new initiatives have introduced additional dimensions to deliberations about the future of the region's trade and economic architecture.
Hopes are high that 2010 will be the year when resolution of key domestic policy issues frees the US Administration to pursue an active trade policy agenda. This could signal a fresh round of efforts to bring the WTO's Doha Round to a successful conclusion.
For APEC economies the year has special significance as the date of the first milestone set out in the Bogor goals. It is natural as this milestone is reached to consider the next steps for APEC's trade and investment agenda.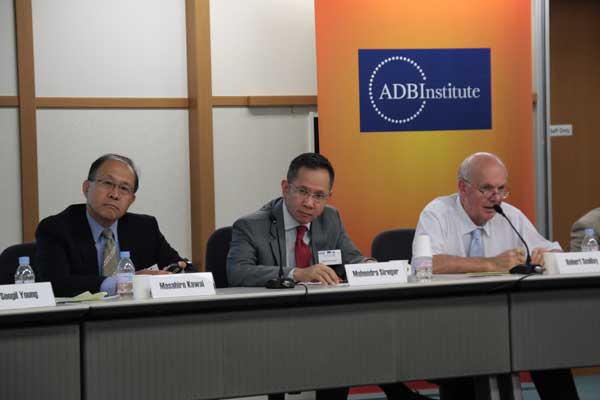 From left: ADB Institute Dean Dr Masahiro Kawai, Indonesia's Vice Minister of Trade, Mr Mahendra Siregar;
and PECC task force coordinator, Dr Robert Scollay
Experts from the region gathered in Tokyo on 6-7 July to discuss a "Post 2010 Trade Agenda for the Asia-Pacific". The conference co-organized by PECC, the Asian Development Bank Institute and the Inter-American Development Bank forms part of the work of the PECC task force on trade.